Celebrating Our History & Looking to the Future
by Marieke Berga, RMCC Community Class Coordinator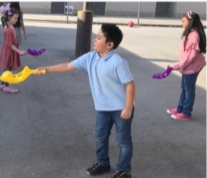 Almost 8 years ago, the Lord provided a wonderful place for our children to learn, play, and worship at the Ridge Meadows Community Classes (RMCC).  We are thankful for the use of the church sanctuary for worship, various rooms for classroom spaces, and an outdoor play space with two playgrounds (including one that is covered for our rainy west coast days!)   
Ridge Meadows Community Classes intentionally focuses on Christ and community.  From starting our day with worshipping the Lord together, to free play in our play space, to opportunities for parents to fellowship; we appreciate the blessing of having time and space to build relationships with one another and God. 
A notable milestone this year is our grade 7 graduation, which includes learners who were part of our very first kindergarten class at RMCC!  
The children have developed ball-handling skills with Mrs. Kulak, created rhythms on invented drums with Mrs. Speer, and delivered dramatic presentations with Mrs. Alexander.   
This fall, we invited RMCC families to our Inventor's Imaginarium event where the children presented their unique and creative inventions, ranging from a bird feeder to a catapult!  This winter, a Code Mobile teacher expertly led workshops for each class so children could learn how to code using Scratch.   We are thankful for this government-funded initiative that inspires children to develop technology skills through creating code. 
RMCC is dedicated to reach beyond our Maple Ridge community and build relationships globally.  Mrs. Kulak has facilitated a relationship between the RMCC and a RCOA missionary family who lives in Africa.  The children are learning about this family's home life, country, and their work in Bible translation, and will be communicating with them in the future.  It is our hope to provide support to this family and their work through a service project this term.   
We are excited for what God has in store for our community as we continue to learn, play, and grow together in Christ.