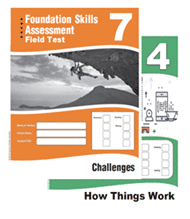 The FSA – With all of the changes in curriculum, is it still necessary and required?
The Foundation Skills Assessment (FSA) is an annual assessment of students' reading, writing and numeracy skills at grades 4 & 7.
Does the Ministry of Education still expect that all grade 4 & 7 students in the province will participate? – Absolutely. It is a firm requirement of all students in public and Independent campus schools and DL students.
With the re-designed curriculum, wouldn't the FSA have to be new, as well? – Yes, but those changes aren't quite done yet, so this year (Jan 9 – Feb 17) the format will remain unchanged. The new FSA will be required the following year.
So, what's the purpose of the FSA again? The purpose is to:
Provide information on student performance across BC
Support decision- making in the areas of resource allocation, curriculum policy and research for the MoE, school districts and individual schools.
Provide positive data on the effectiveness of learning at home through DL. In my opinion, opposition to Independent schools and DL schools in particular from the BCTF is concerning. To maintain the freedoms we enjoy necessitates the need to be vigilant.  As home learners, we need to consistently provide quality data on the academic success that learners at RCOA have long enjoyed. In general, RCOA's results in the FSA are very positive, thanks to each parents' hard work.
How long do we have to do these assessments? Each RCOA family is very busy. We absolutely appreciate how busy we all are. That is why the MoE has given approximately 6 weeks. The total time that this assessment takes 4 ½ hours. I normally suggest that you pick 3 days (out of the 30 days) and take 1 ½ hours each of the 3 days to get this done.
Do I have do these assessments with a certified teacher? Talk with your HLST. It is recommended that you find an approved invigilator rather than yourself, but approved just means they understand that the purpose is just to find out how the student is doing at this point in time. These are not pressurized high stakes exams. My suggestion is to do them in your own home where your child is comfortable and invite a friend to watch over the process. You could get together with several friends and do these together. Is it permissible to just oversee these assessments yourself? If you cannot find a friend/ invigilator then yes. Be sure and communicate with your teacher so they can share the best way to accomplish this.
How do I get the assessments? Your Home Learning Support Teacher will be sent the booklets and instructions and she/he will get them to you. Once finished, please get them back to your teacher.
What will the new Foundation Skills Assessment look like? The new FSA for the following year will include more engaging and interactive questions. These will include student collaboration, student choice of topics and student self-reflection. The results will be reported on proficiency levels and will include more descriptive student level reporting. RCOA will work with you taking part of the assessment and having you do some of it at home.
Where can I get more information and sample assessments to help my learner feel more comfortable with this form of assessment? Please ask your HLST. You can also visit the MoE site for tips, information and Sample questions and scoring guides to help your child feel more comfortable with the format of this assessment. Here you can find samples of the multiple choice questions and even samples of the written questions and typical student responses.  For this information, please click here.