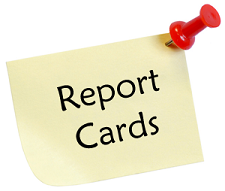 Term 1 Report Cards on OTIS: Dates and Details
Thank you to all of you who have so consistently communicated with your teachers throughout the term via mYrcoa (Canvas) and FreshGrade.  We so appreciate your efforts to make technology a part of how you demonstrate learning.
Term 1 report cards for learners in grade 10 -12 were completed on November 1.  If you have not already had a peak at those, you can do so on OTIS.  See more below about OTIS if you are new to this platform.
Teachers are now preparing to document the learning that your children (grade k – 9) have demonstrated throughout this first term.  Report cards will be ready for your viewing on December 1.  Term 1 reports for grade K – 9 are anecdotal only.  The subsequent two terms will be graded with an indicator as outlined in the charts below.
To view your child's report card, click on the 'report card' link under the learner's name in OTIS.  See more below about OTIS if you are new to this platform.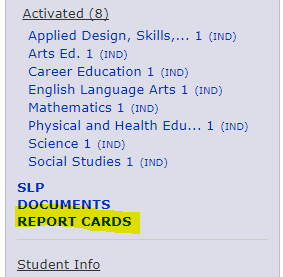 TERM and REPORT CARD DATES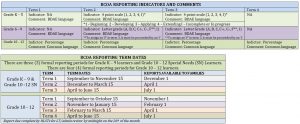 OTIS – is our Online Tracking Information System.  On OTIS, you will find your PO#, a record of your funding expenditures, order forms, sign up for face to face as well as the report cards.  You can log into OTIS by clicking here and then saving the link to your browser for further or you can access the link from our website (www.rcoa.ca) by clicking on the ot at the top of the screen:

You will then see the OTIS log in screen: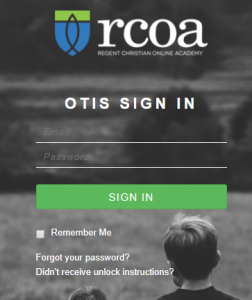 Your username is your email address that we have on file from the information you gave us in your application form.  You will have created your login when you enrolled or registered your child.
If you cannot remember your password, just click 'Forgot your Password?'.   You will be asked to provide your email address and a link to reset your password will be sent there for you.  You must use the email address we have on file for you.  If you don't, it will not recognize you as an OTIS subscriber and it will give you an error message.  If you do not receive a reset email, please check your Junk Mail or Spam Mail.