We are excited to launch our live Q&A series this year!
These live Q&As sessions are designed to bring more information and encouragement to homelearning parents in our community and also to parents who are considering teaching their children at home.
For our very first live Q&A, we will be talking about practical ways to simplify your homelearning experience and I am sure you will love the tips, ideas, and strategies we have to share with you. It is our goal to support all facets of learning at home, DL and Registered, therefore this talk will address both audiences.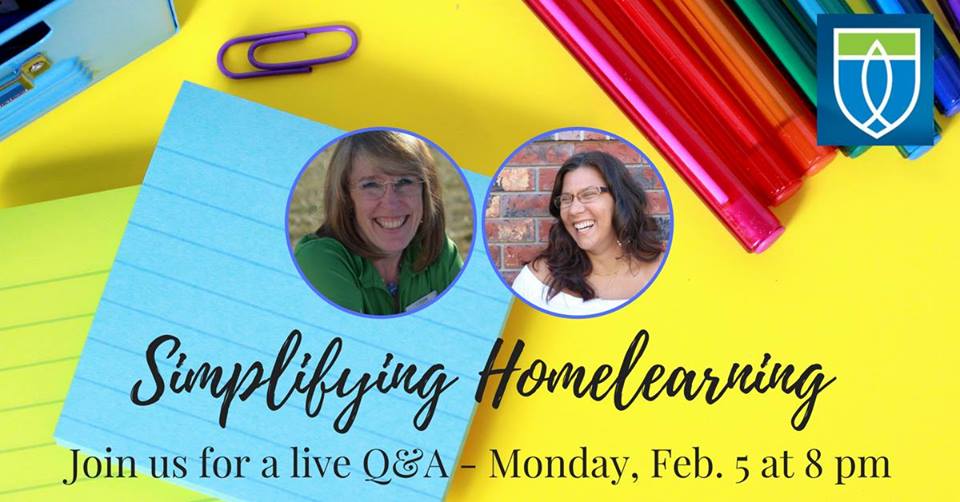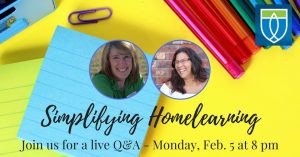 You are invited to our first live Q&A session with Ana Willis of www.theycallmeblessed.org on the Regent Christian Online Academy Facebook page this Monday, February 5th at 8 pm!
This was so much fun to do!!  One of our teachers blessed us by summarizing for us: So much good stuff archived in the video from two amazing ladies who are with you in the trenches of raising and educating their children at home…follow the link to view the archive or read on if that is your learning style 
🙂 Some ideas shared are: find advice that works for you and your family, learn topics together or divide your children into learning groups (by ages), have older students teach younger students, outsourcing (e.g. classes online, or in person), make use of the library, organization, scheduling, lapbooking (but don't feel like you have to do it all). And, remember the benefit of knowing your children through home education, so simplify, and remember that relationships come first. Ana's weekly checklist given on Monday so children can be independent learners (chores, group subjects, individual subjects). Brenda's application of a weekly goals checklist created with her teens to develop skills of independence learners in the future (so they can make their own schedules on their own someday). Make use of online courses, scheduling technologies, learning management systems, ebooks, so your children can be independent learners as adults. Try to use Mystery Science, BrainPop, Epic, etc. Have you internet safety filter on, and ask your children to research topics online–read, watch videos, etc.–then ask them to teach you (narration strategy–they will develop public speaking skills and confidence!) Let your children take ownership of their education, but keep checking in to see they are on track. Try some little things to improve your homeschool today! Celebrate accomplishments! 
🙂 Find what works, this may involve a change, a mom shared how she loves to take advantage of RCOA's lending libraries to try out something new! 
🙂 But, avoid getting overwhelmed with all the curriculum choices. Go back to your purpose, accomplish your main goal, declutter, avoid too much on your plate (might mean outsourcing to get the learning done), experiment with different curriculum if your child needs a change, know your learner's learning style (e.g. auditory, kinesthetic, visual, etc.), and if many changes of curriculum tried but still not helping consider the possibility of a learning disability, so it might not be the curriculum, we can seek out specialist help (for assessment, Barton tutoring, or other special programs etc.) Stay tuned for a future FB LIVE Q&A on special needs!