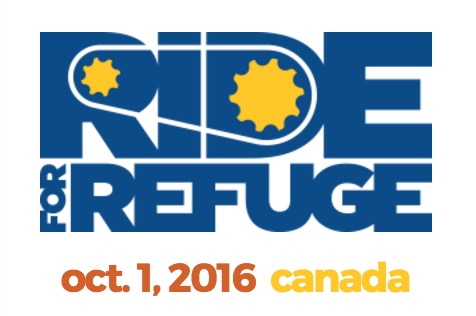 Ride For Refuge

Join us October 1, 2016 for the Ride for Refuge, a fantastically fun, family-friendly bicycling or walking fundraiser in support of 250+ charities serving displaced, vulnerable, and exploited people!
Since 2004, the RIDE has helped 350+ charities raise more than $10,000,000. The RIDE is held on Saturday, October 1, 2016 and provides each participant the chance to:
·                  ride up to 50km / 30 miles or,
·                  walk 5km or 3mile and of course,
·                  fundraise much needed money for a participating RIDE charity partner. RCOA Riders has chosen to support Sanctuary Youth Centre.
Registration details:
·       10 and under: Free
·       Over 10: Raise minimum $50 to participate
·       Any age: Raise minimum $100 to earn a cool shirt
·       New for 2016: There is no registration fee. Participants are now required to fundraise or self-support $50 minimum.
Simply go to www.canada.rideforrefuge.org and search for our team, RCOA Riders, to join. From there you can recruit more team members and ask friends and family to support you in your ride. You can view the possible routes, see our team fundraising progress, and more. If you have any questions, the website has all the details, or you can email Christine Van Domselaar (HLST) cvandomselaar@rcoa.ca
Thank you!