Dear Families,
This Easter season was like no other for me and my husband, Tim.  Having been at the Garden Tomb in Jerusalem during our school missions trip four short weeks ago, we were especially touched by the power of the empty tomb this year.  He has risen indeed!
They say once you've been to Israel, you have a longing to return.  It's true.  And I already have too many cherished memories to count.
Our team of 17 RCOA-ers, made up of parents, teens, and teachers, began in Tel Aviv, on the shores of the Mediterranean Sea.  After a 19-hour trip, we were thrust into the early morning bustle of an active city, and with all of the new sights and sounds, we forgot our exhaustion and began our adventure.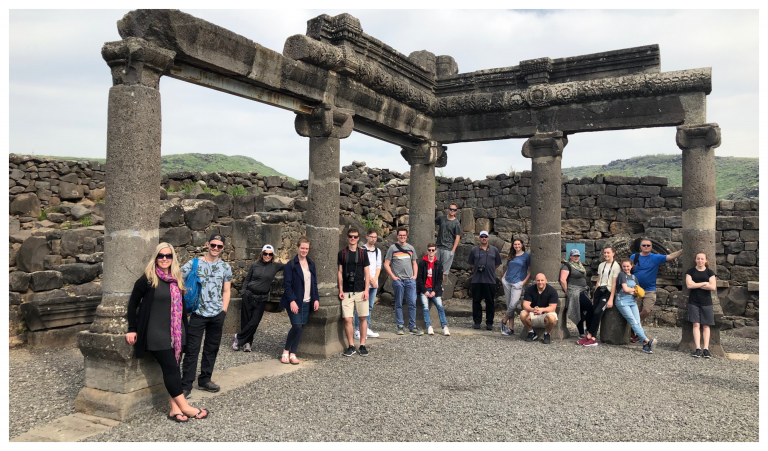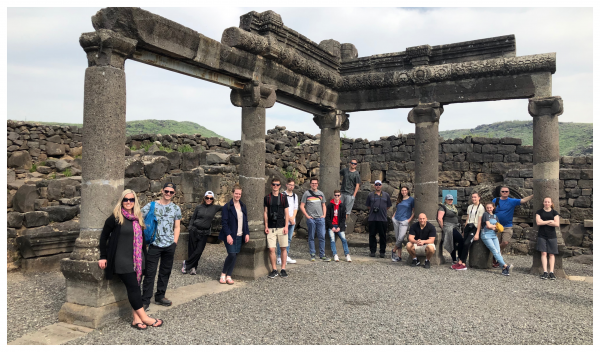 How can I describe to you the beauty of what I saw in the people of Israel and the people with whom we travelled?  Over the course of our two weeks, I had the honour of witnessing our young people asking themselves faith-forming questions, three from our team were baptized in the Jordan River, and each night we entered into a time of student-led worship together.
I had prepared myself that I might feel unsafe once we arrived, but paradoxically, I have never felt safer than I did in Israel.  Our travels took us to places such as Bethlehem, Nazareth, Jerusalem, and Magdala, which is a 2000-year-old Jewish town located on the western coastline of the Sea of Galilee.
We sat in the chapel at Magdala where a beautiful wall mural of the encounter between Jesus and the woman who had been bleeding for 12 years is displayed.  The woman depicted in the painting was looking for healing, and found it when she touched the hem of Jesus:
When she heard about Jesus, she came up behind him in the crowd and touched his cloak, because she thought, "If I just touch his clothes, I will be healed." Immediately her bleeding stopped and she felt in her body that she was freed from her suffering." Mark 5:25-29 NIV
What a risk she took (in the context of her culture)!  What a miraculous and life-changing response!  Jesus did not focus on her sin, but instead on God's promise of redemption for her.  I was struck that His focus for us is no different.  The floor of the chapel where the mural hangs is that of the original first-century marketplace.  It is hard to describe what it feels like to stand where He stood.  I couldn't help but fall to the floor on my knees.  I was overwhelmed by a personal encounter as I experienced the historical and spiritual presence of Christ in that place.
Jesus is alive.
The most precious thing I brought back from Israel is the understanding that Jesus has a powerful message of healing, of grace, and of hope for every one of us.
Is the Lord stirring your heart?  Do you see your child(ren) in Israel with us in 2020?  We need a minimum number of participants in order to proceed with plans, so please contact Mrs. Lauren Teichrob (lteichrob@rcoa.ca) if this is something you are considering or if you have any questions.  And please join us in prayer that this life-changing trip can become a reality for another group of RCOA young people!