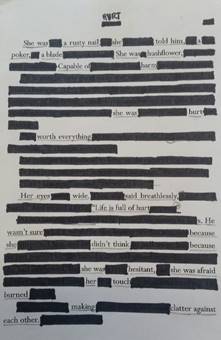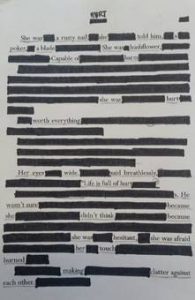 Teaching poetry is one of my favourite things. I love to watch learners play with language and discover ideas they might not have known were hidden in their own minds. Poetry is an art form and so we do a lot of what I call 'right brain stretching' in our class to try to stretch how we see the world and how we use words to express ourselves. Every class is a surprise with learners finding their own voices and a place to explore what they're feeling or how they might see the world, such as this blackout poem from one of my learners (who wishes to remain anonymous):
Are you interested in learning more about Blackout Poetry?  Here is a link to a Scholastic.com article, Blackout Poetry.
Learners listen to, look at and explore all kinds of poems, from fun alliteration poems, to ransom note poetry, to modern day sonnets and much more – we even do collaborative poems as a whole group such as the following, Ode to Dennise Croswell, created by a class in 2016:
Ode to Dennise Croswell
You are like a glass of water for a parched throat,
a chocolate-chip rainbow-sprinkled cookie,
and angel-hair pasta.
You are like a lioness who helps her cubs on the way,
a golden retriever who greets everyone with a shaking behind,
and an exotic bird of paradise.
You are like an exploding tube of glitter,
a pink fuzzy alarm clock with a white face singing a bubbly song,
and a fresh bouquet of flowers.
Dennise Croswell, you are a flowing river,
a really satisfying laugh,
and the 37th page of an interesting book.
I'm always delighted by the many different creations learners end up with and how some learners go on to use their talents with words outside the classroom – learners like Jack Porter who's a songwriter and has recently produced a CD of his music.  Poetry is everywhere around us and I'm so blessed to be able to experience the discovery of this art form with the learners in my classes each year.
Angela Cragg, Island F2F Writing Club Instructor