Simple Short Cuts Using the Control Key
Using the control key is a great way to save time and work efficiently. When you use the control key for a shortcut, you need to hold down 'Ctrl' and another key at the same time. Many people are familiar with some of these short cuts, but are there any new ones here that you can try? 
Ctrl+C – Copy the selected text
Ctrl+X – Cut the selected text
Ctrl+V – Paste the selected text
Ctrl+A – Select everything on the page
Ctrl+Z – Undo
Ctrl+Y – Redo (reverse your most recent undo) 
In programs like Microsoft Word, you can see more keyboard shortcuts by hovering your mouse over a button. For example, to bold your selected text, use Ctrl+B.  

Other programs have their Control shortcuts listed in the menus: 

Here are some shortcuts to try when using a web browser: 
Ctrl+F – 'Find' – If you use this shortcut, a text box pops up at the top of the page for you to start typing the word you are looking for. If the word is there more than once, you can press Enter to skip to the next one.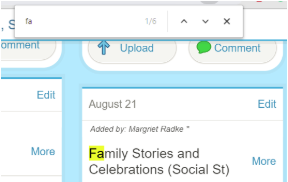 Ctrl+T – Open a new tab in your web browser
Ctrl+R – Reload/refresh your web page 
And lastly, one of my recent favourites is holding down the control key when you click on something in your web browser. This opens that item in a new tab so you don't lose your previous page.  
Try some of the above out!  You will be glad you did.