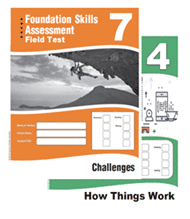 Introducing the New (and Improved!) FSAs: October 2 – November 10
The FSA (Foundation Skills Assessment) is an assessment which is administered in grades 4 and 7. It is designed to measure numeracy (math) and literacy (reading and writing) skills. Participating in the FSA is a DL requirement, but it's also an opportunity for us to show the government that DL programs work well AND are a great option for students! We appreciate the time that you, our families, take to work with us in administering this important assessment.
This year the FSA has been redesigned to reflect the changes in BC's curriculum. Here are the highlights:
The math and reading online assessments are more interactive. They include matching, drop-down menus, drag and drop, and sequencing activities. These are excellent changes and will make the assessments more engaging and fun for students.
The written section includes a collaborative component, and a choice of reading samples to respond to. To accommodate this change, we are scheduling a collaborative writing session during our community classes.
The assessment dates are earlier this year than previous years! Because of this change, the assessment will be based on grades 3 and 6 skills rather than grades 4 and 7.
What Does the FSA Look Like, and How Much Time Will it Take?
There are two online sections: a math assessment, and a reading assessment, each with 30 questions.

Suggested timeline: one hour for math; one hour for reading.
In addition, each student will receive a written booklet that includes a collaborative activity, a reading activity (with a written response), a writing activity, and 3 written math questions. The Collaborative and Reading Activities will be completed at Community Classes, so you will only need to complete the writing activity and math questions in the booklet at home.

Suggested timeline: 45 minutes for the writing activity; 45 minutes for the math questions.
Students will also complete two self-reflection questions: one following the online sections, and one following the written questions.

Suggested timeline: 5 minutes each.
Can I Practice for the FSA?
Absolutely; we encourage you to do so! The assessment is an excellent learning tool; the questions encourage students to apply their learning in new ways. When you practice, please use that as your learning time; for example, if you are completing the math assessment, that can replace your regularly scheduled math lesson. Although the FSA Results will not be included in your report card, you are welcome to share practice samples with your teacher on Fresh Grade.
Practice samples for the online and written assessment can be found at this website. There are also sample responses you can look at after you've finished. Please assure your child that since the assessment measures learning beyond grade level, some questions will be challenging. Let them know that's okay! If you need help accessing the samples, your teacher will be happy to help.  
What is the Timeline for Writing the FSAs?
You can login to the FSA website and take the Online Math and Reading Assessments anytime between October 2 and November 10 during regular school hours (Monday to Friday, 8 a.m. to 4 p.m.). Your HLST will provide you with a link and your password information.
Early October, the Collaborative and Reading Section will be completed at Community Classes. After that's completed students will take their booklets home to finish the remaining written assessments (a writing activity and three written math questions). Your HLST will touch base with you to see if you have questions.
When your child brings their booklet home from Community Classes, you will have approximately 4 weeks to complete the remaining written and online sections. You will want to allow 3 ½ hours to complete those, spaced over several days during the four weeks. (Most of our Community and PIE classes have a break or a lighter week following the Thanksgiving holiday; that would be an excellent time to complete parts of the FSA!)
When you've completed the booklet, you can return it to your teacher who will mark the written response sections. The online sections are computer-marked.
Your HLST will share the results of the assessment with you at your term visit.
Do I have to complete these assessments with a certified teacher?
This is something you need to discuss with your HLST. Most of our families take the assessment in their own homes. Ideally it would be best if you could find a friend who could oversee the process or even get together with several friends to write together; however, if you can't find a friend or someone to oversee the assessment, you may oversee it yourself. Be sure to communicate with your teacher so he or she can share strategies and ideas to make this a successful experience.
How do I complete the Collaborative Activity if my child doesn't attend Community Classes?
You are welcome to join one of our Community Class locations to participate in the collaborative activity! If this is an option you'd like to consider, please talk to your HLST about locations and times. Alternately, students can complete the collaborative activity with a parent or siblings at their home.
Thank you for allowing us to partner with you in your children's education! We pray that this will be a valuable learning experience for all our grade 4 and 7 students.