All good things must come to an end, including a fantastic year of High School

Activities & Events!!
We started the year with our annual Capernwray Welcome Back Event (pictured above). Throughout the year were field-trips to Playland, Science World, Youth Innovation Day, Sandcastles Competition, Vancouver Zoo, Waterslides, Legislature, Museum, Hikes, Kayaking, Cycling, Rock Climbing, Curling, Skating, Skiing, Snowboarding, Snowshoeing, Waterslides, Mini Golf, and more. Then we ended the year with our 3-day Retreat at Camp Imadene, Whale Watching, and a Grad Celebration with our biggest group participating in the Formal Event!!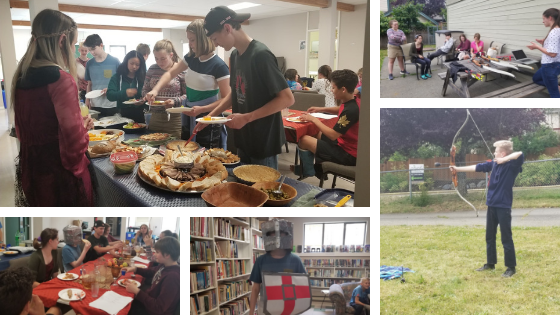 Food, games, presentations, and costumes – as an end of term project, our
Duncan and Victoria Humanities 8 Classes host this Medieval Feast together.
Grade 7s are invited as guests to get a preview of what's in store for them next year!

It was a perfect day at Cultus Lake Waterpark on the Mainland where we
welcomed the high school grade 7s – soon to be grade 8s!
We will reconvene the first week of September with the following:
Thursday, September 5th, 2:00pm-3:30pm – join our High School team of experts for an interactive "Tech-Up" via Livestream ZOOM – this is an online tour through RCOA's platforms with tech tips to help your family start a successful year.
Friday, September 6th – join other high schoolers from the Island and Mainland at Capernwray Harbour on Thetis Island for lunch and team-building activities to start the 2019/20 school year! (includes ferries & lunch).
Monday, September 9th – we will have a K-12 Open House at the RCOA office on Vancouver Island.  Meet a number of our teachers, get tech questions answered, pick up curriculum.
Saturday, September 14th – we will be hosting a K-12 BBQ at Regent Christian Academy in Surrey where you can meet a number of our teachers, get tech questions answered, and (with prior arrangement) pick up curriculum.
Sign-ups for the "high schoolers only" events are in OTIS  https://otis.regentonline.ca/activities.  The K-12 events will have an online form set up for RSVPs to be collected the first week of September.