What an incredible year!  As this school year draws to a close and I reflect on our time together over this last year, I feel blessed by relationship with you and your children.  This blessing culminated in my time well spent during three days with a group of amazing high school teachers and incredible students spent at the High School Retreat – Camp Imadene.  What an amazing group of young people you have raised!  Thank you for allowing us the opportunity to spend time with them.  They bless us.
At Imadene, we look forward to some things that have become retreat 'traditions'.  Activities like a student led worship team and time of honouring the Lord with our voices, the talent show where we laugh a lot and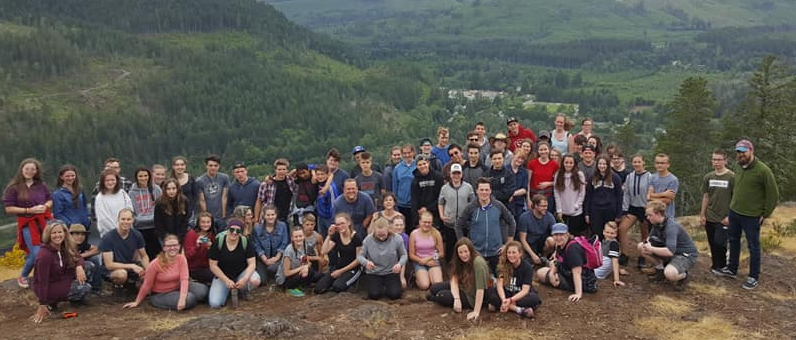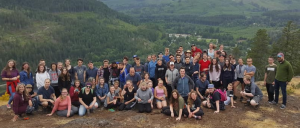 soak in the gifts God has granted our young people, the 'Walk Down Memory Lane' slide show of pictures from activities over the years commentated by Mr. Willie and me.  For the grads we enjoy honouring their last year with power boat activities like tubing and skiing as well as permanent "markering" their cute faces with the grad year.  Lastly, each year I am amazed by the students who accept the challenge of a fairly intense hike up Mesachie Mountain.  What a view.  Here is a picture of most of us at the top.
This year we welcomed back Travis Hutchinson as our keynote speaker.  Travis is a RCOA dad, and pastor of Shelbourne Street Church of Christ in Victoria.  He shared Truth-packed sessions over three days with a focus from the book of 2 Timothy.  Together we learned about confidence, devotion, integrity, and endurance.  Particularly meaningful were the prayer times after the session where the worship team played quietly in the background and students were invited to come forward for prayer.  What an honour to be entrusted to speak Life into young people by bringing them before our Saviour.
Being face-to-face with our RCOA community is bucket-filling for me.  My trips to Imadene remind me that I do what I do because of the people.  Teenagers, especially, have my heart.  They make me laugh, they make me cry, and most of all they give me so much joy.  I love their honesty.  I love their courage.  I thank the Lord for each and every one of them.
Our time at Imadene embodies what we hope for our school all year long.  We want God to be at the centre of our purpose, which means we leave lots of room for laughter, relationship building, Truth-seeking, and prayer.  Thank you for the moments you have shared with us this year.  We feel truly honoured to be in relationship with each of you.
As you head into the summer, I pray you be blessed with a SON-filled break.  May you know the fullness of His Reckless Love as you go about each day.  We look forward to serving you again in the 2018/19 school year.  See you in the fall!
~ Dennise
* Have a look at the short movie clip below that Mr. Willie put together that highlights some of our time at the retreat. Enjoy!
* Our next high school (grade 8-12)) face-to-face event is the Welcome Back activity at Capernwary Bible College on Thetis Island on September 7, 2018.  There is no cost to our enrolled learners and I encourage you to send your teenager to join us.  Sign-up for this event is open in OTIS now.