Equine Studies 12 is an accredited BC Dogwood Graduation Program elective course worth 4 credits. The course offers learners an opportunity to become confident, informed and experienced equine caregivers.  Learners will work through five units of study through a combination of written assignments, hands on practicums, discussions and lectures.  We are offering this grade 12 course in a blended learning format this summer.
Units include the following areas of study:
Equine psychology
Anatomy & Physiology
Health and Nutrition
Stable Management
Education and careers
Dates to be determined by the cohort and the instructor.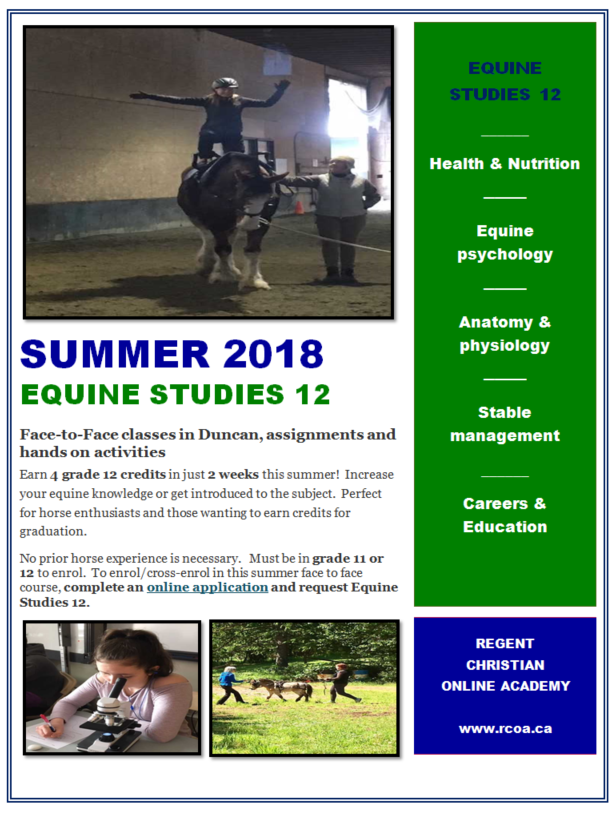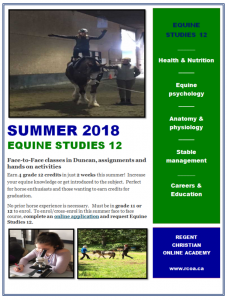 UPDATE: This course will be running August 2018 in the Cowichan Valley as a 2 week program with six 6hr days as well as study and project work done at home in between classes for a total of about 100hrs they will earn 4 grade 12 credits upon successful completion.  If you are interested please email Brenda Fawkes at bfawkes@rcoa.ca