You may have heard that the Ministry of Education (MoE) has been phasing out the provincial exams. This has caused many of us to wonder – will these exams be replaced? If they are replaced, what grade level and subjects will they be in? What will they look like?
In line with the direction and philosophy of the new BC Curriculum, the MoE has begun to phase in the new graduation assessments: Numeracy and Literacy Assessments. The Literacy Assessment will be introduced in the 2019/20 school year. Until then, the current English 12 provincial exam will remain an expectation for graduation. The Numeracy Assessment will be implemented this year and is an expectation for graduation for all current grade 10 and 11 learners who have not completed a provincial exam in Math. Learners will be granted up to three attempts at the Numeracy Assessment and the highest result will be recorded on the learners MoE transcript.
The intent of the Numeracy Assessment is to assess a learner's various competencies, rather than his/her knowledge of the content. As a result, the Numeracy Assessment is not directly related to a particular course. It will utilize mathematical skills learned from grades 7-10. We will encourage learners to complete the assessment in grade 11 or 12, after they have completed Mathematics 10.
How does the MoE plan to assess a learner's competencies within Mathematics?
It all starts with the types of questions asked. Where solving systems of equations and finding the cube root of a number were once an integral part of the provincial exams, the Numeracy assessment will transition to learners deciding on what information is necessary to solve a problem by creating plans/budgets and formulating arguments. These are skills based on mathematical reasoning and other competencies. Learners will not receive a percentage as part of their assessment but rather they will be assessed on a proficiency scale as shown below. This assessment result will be represented on the learners MoE transcript. As shown below. This assessment result will be represented on the learners MoE transcript.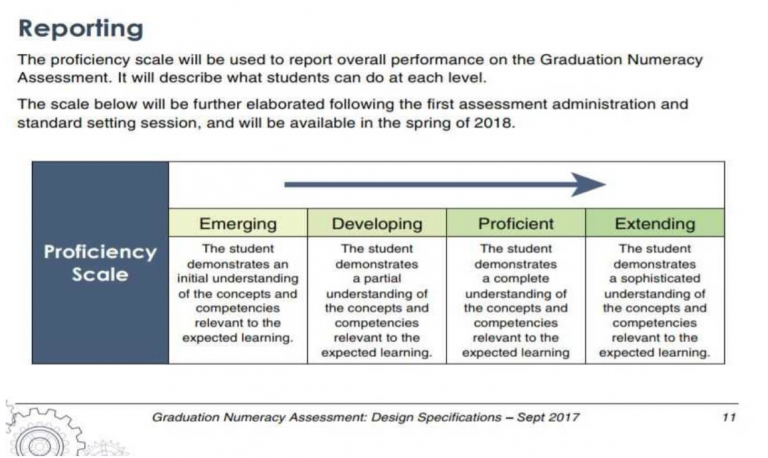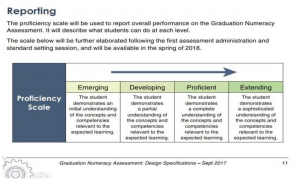 As the implementation of this assessment takes place this spring, I look forward to sharing more information and how we can continue to prepare our students best.
For more information and FAQ, please see: https://curriculum.gov.bc.ca/provincial-assessment/graduation/q-and-a
Andrew Easson
Assistant Director of High School Education and High School Special Education